Options for writing on bisque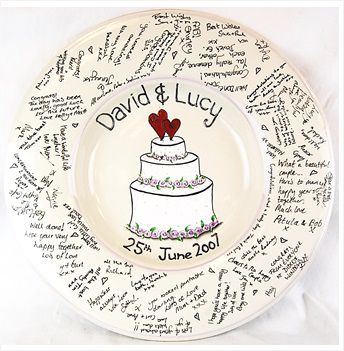 Pottery writing techniques
Techniques/Ways To Write on Pottery (Writing on Bisque Earthenware Ceramics).
Pottery Pens, Pencils and Writers
Easy, controlled fine details, squiggles, writing, fine lines, writing, outlining
Below are several different techniques for writing or adding words on pottery.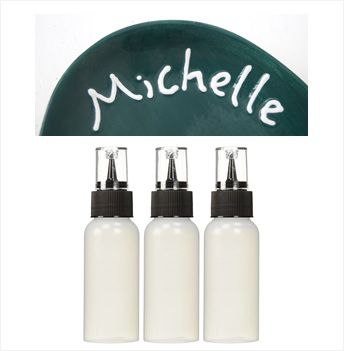 Empty Writer Bottles
Empty, fillable writer bottles allow for easy controlled applications and are ideal for adding details. Our reusable plastic squeeze writer bottles allow for easy controlled applications and are ideal for adding fine details, squiggles and writing.
Simply fill with a colour or product of your choice. Add a few drops of water to improve flow. Can be filled with underglaze or glaze colour to make a great ceramic pen.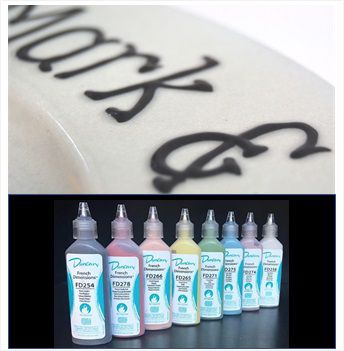 French Dimensions
"French Dimensions" from Duncan Ceramics are high-pile glazes for raised design effects, such as dots, stripes, squiggles and outlines, over and under non-moving glazes and over each other. They are a low fire product used for decorative accents. Non-toxic and dinnerware safe. French Dimensions are similar to the many raised slip based products on the market. However they are a glaze based product with a high grade colour intensity. Duncan French Dimensions can be applied to either greenware or bisque.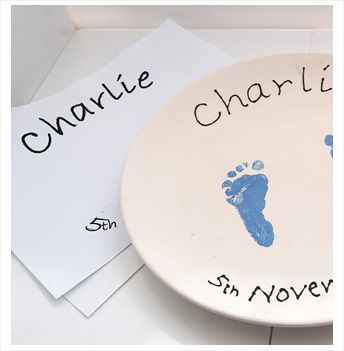 Text or Image Transfer
Use "Clay Carbon Paper" to trace an image or text writing transfers. Clay Carbon Paper is used for tracing patterns onto greenware or bisque. Place rough side of paper to bisque or greenware.
Place your pattern or design on top on top of the clay carbon. Trace over design using a sharp brush handle or similar tool. Decorators will be left with a feint line that disappears during firing.
Sold in packs of 10 sheets (reusable - just keep using until the transfer begins to fade)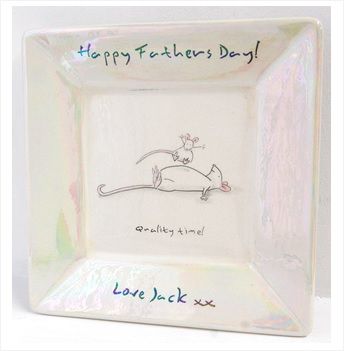 Fine Liner Brush
Use a fine liner brushes to hand-paint or hand-write names, words and messages on pottery. Use Duncan E-Z Stroke® Underglazes (an intense pigment translucent underglaze in a range of colours that are perfect for HIGH DEFINITION work like: writing, fine outlining and detailed designs). The image on the attached plate was applied using a fine liner brush and Black E-Z Stroke®.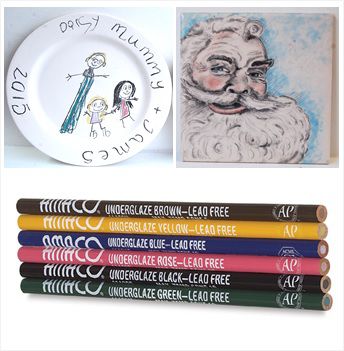 Underglaze Pencils
Unlike normal pens, underglaze pencils do not fire off during a kiln firing.
Our underglaze pencils provide colour for shading, fine line drawing, or identification. Colours are lead free and can be used under a glaze, or on their own. Great for writing on the bottom of pieces because the colours will not stick like glaze. Maximum firing temperature is Cone 10 for Blue, Black, and Green; Cone 5 for Brown and Yellow; and Cone 05 for Rose.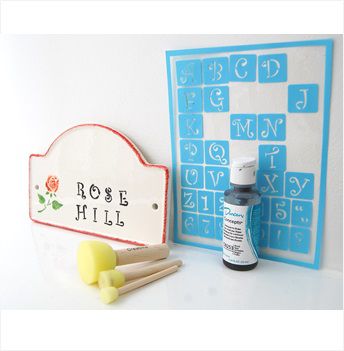 Alphabet Stencils On Bisque
Create neat writing using our range of alphabet stamps. Simply sponge underglaze through stencil designs on pottery (or apply by finger painting/dabbing).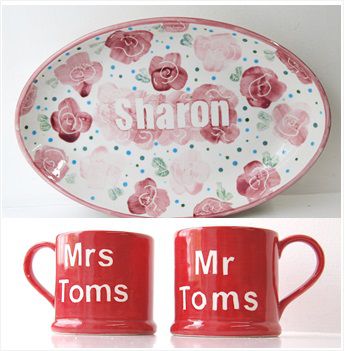 Sticker Relief Writing On Bisque
Apply self adhesive alphabet stickers on your pottery design.
Band or brush underglaze colour over the top and then once dry, gently remove the stickers.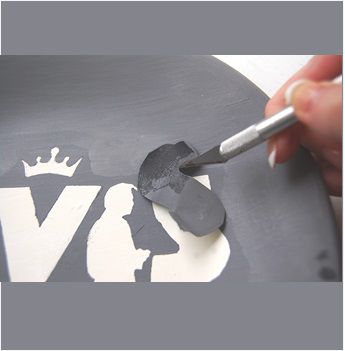 DIY Wet Paper Stencil Decal
Use standard copier paper and printed designs as a transfer pottery painting technique.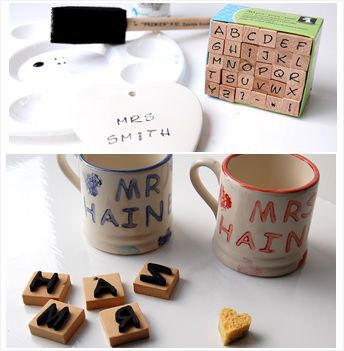 Stamping On Pottery
Stamp text on bisque pottery using alphabet stamps and Duncan EZ One Stroke Pottery Underglaze.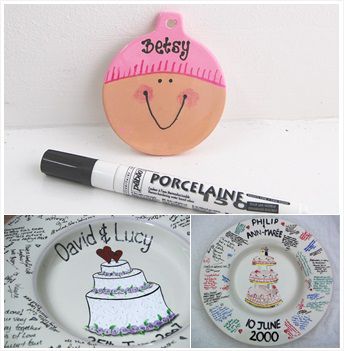 Ceramic Pens
Ceramic, oven, glass markers are a great way to add personalised messages (e.g. a wedding or birthday signature plate) or to customise pottery with names.
The Wedding Signature Plates shown above were created by hand-painting the main design in the centre using glazes and underglazes. The plate was then fired in the kiln.
Once fired, the signatures and messages were added (on top of the glazed ware "onglaze") using a pen.
Also known as glass pens, china pens, ceramic pens, porcelain pens.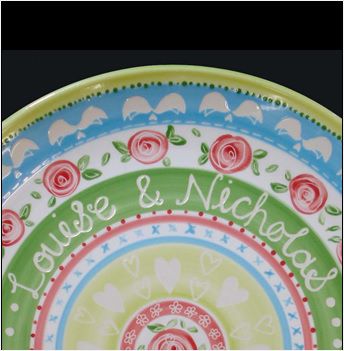 Underglaze Carving or Sgraffito Writing
To achieve this result coat your bisque with 1-2 light (and thinned coats) of white underglaze - we used Duncan Concepts white. Once dry, apply or band a top coat of contrasting underglaze (mid to dark colours work best).
Once dry, use a cocktail stick or sgraffito tool to scratch a design, write a message, add a name or date etc.
Lightly brush off excess/loose underglaze particles (scratchings) using a soft, clean brush.
Note: always sgraffito before the paint has fully dried, if you do not you risk chipping the paint as you scratch through. If the paint has fully dried use a spritzer/spray bottle to dampen the underglaze.