Starting A "Paint Your Own Pottery" PYOP Business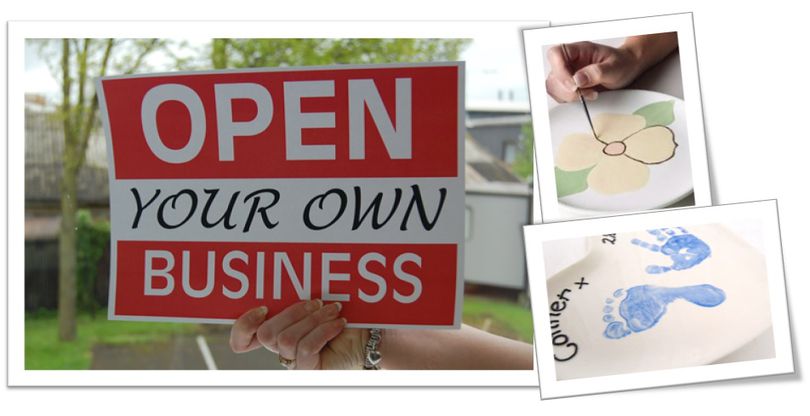 Relaxed and informal advice via phone or video call.
We are happy to help anyone looking at the possibility of starting a "Paint it Yourself Pottery" business. Whether you are considering a mobile operation, a shop location or just want to add party plans & adult workshops to your existing business, we have lots of advice and experience to share - there is no hard sell but there is plenty of advice. Please email
sales@countrylovecrafts
with further information about your plans and request a callback.
Pottery Painting & Ceramics Business - Home, Online or Shop.
Be your own boss!
Information to get started. We have been helping new businesses set up for over 20 years and there are literally thousands of businesses that have benefited from our experience and personalised ceramic/pottery business advice. It is a great starting block / foundation for potential new business owners or anyone considering starting their own business.

Different Business Models. At Country Love Crafts we recognise that every business model is different - some budding entrepreneurs simply want to do "paint your own pottery" (PYOP); some want to sell decorated ceramics. Equally, some customers want to add pottery painting to their existing business model and some want to sell other products alongside pottery painting. Not only this, every start-up budget is different. We supply course notes, "start-up checklists" (because you won't know what tools and stock you need to order) and lots of genuine information. We can supply enough basic knowledge to progress a dream of starting a pottery painting and craft business.

Experience. If you have never been in business, don't know anything about "paint it yourself pottery" or both, we can help guide and inform. We have dealt with different business styles including; mobile or studio, formal or informal (including advantages/disadvantages and considerations for each style); Studio Fees - whether or not to charge a studio fee; considerations when choosing your business name, creating a business plan and insurance types; financial planning and financial decision making; how to price for profit; and other specific business requirements (e.g. health & safety, licences, employment, payroll, consumer rights, insurances, accounts, planning classifications, disclaimers, stock levels and margins etc).
Alternatively, if you want to do your own research, the following PYOP Business Start Up guide we have produced is a h elpful checklist and information guide with shopping links.