Different Ways To Decorate Pottery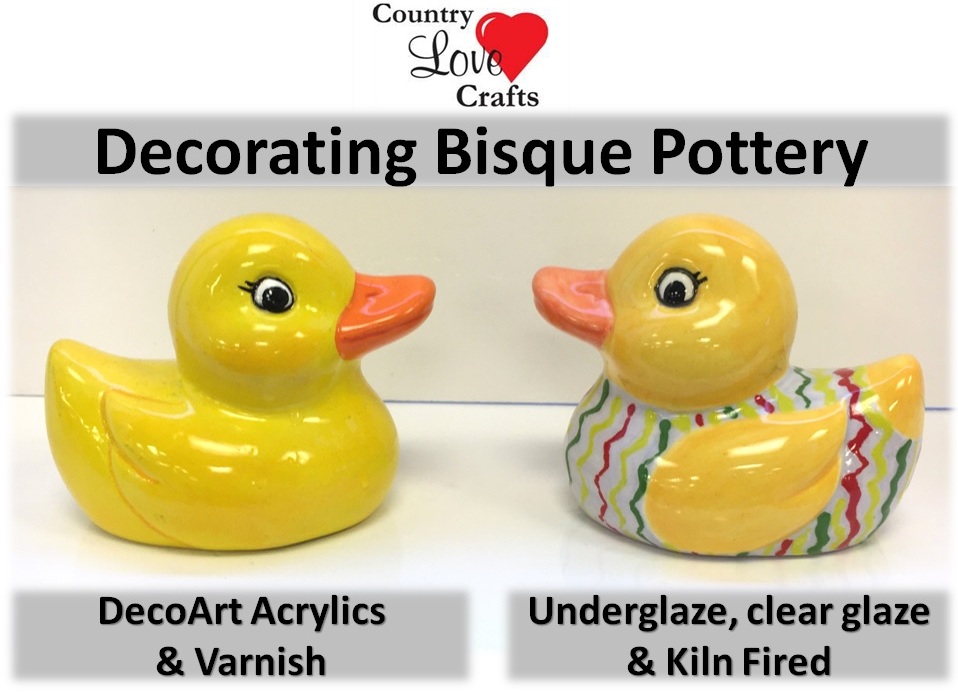 "No Fire" ceramic decorating options
Don't forget that bisque pottery is a craft shape that does not need firing for decorative purposes. It is only tableware that needs to be fired to make it food-safe. Therefore, why not try decorating your bisque shapes in different ways.
No-Fire Pottery Painting
The "no-fire" option of decorating bisque has always been popular. Bisque can be decorated with papers (decoupage) and polymer clays but more commonly, acrylics are used. No priming is required. Simply paint the item and varnish is optional.
Do remember not to choose tableware as it is not food safe (unless you want to use something like plates to make wall plaques or clocks).
Also, one other consideration is that by choosing acrylics you can also offer t-shirt painting, rock painting, canvas painting etc.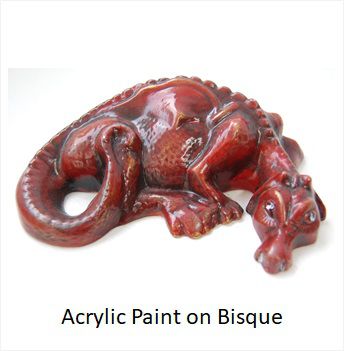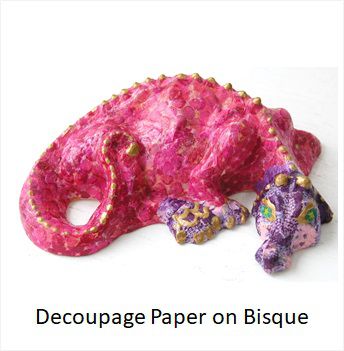 Decoupage Paper
Use pretty, decorative papers to decorate your pottery shape. You will need a suitable glue like Mod Podge, a good, clean decoupage brush and lightweight decoupage papers or printed tissue papers that don't bleed.
Varnishing your creation is an option.
Fimo or Polymer Clay
Fimo or polymer clay is a great way to create unusual designs on pottery. On the sample above we used a "Glow in the Dark" clay.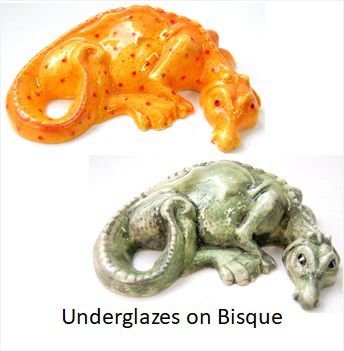 Glazes & Underglazes
Glazes and underglazes are the most common way to decorate pottery but you will need a kiln.
Make sure your glazes and underglazes are compatible with your pottery as you could end up with imperfect firing results.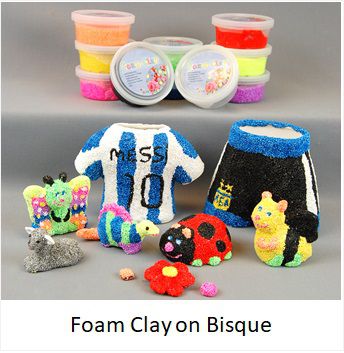 Foam Clay or Silk Clay
FOAM CLAY: Foam clay is a lightweight, self-hardening, air-drying modelling clay with small polystyrene beads that is ideal to mould over existing designs or to use as a stand-alone clay. The clay begins as a soft, damp putty that dries into a flexible and durable EVA foam. Available in a range of bright and traditional colours. Foam Clay
SILK CLAY: A smooth, self-hardening, pliable, soft and lightweight modelling clay, which retains its soft and rubber-like texture when dry. Silk Clay
More Information About Painting With Acrylics