Helpful Check List, Information and Shopping Links
See below for our helpful CHECK LIST for a new "Paint Your Own Pottery" Business Information

The amount you will need to buy will vary in contents depending on:
Whether you are a home business or static site.

The size of your start-up budget.

How much of your business involves pottery painting e.g. for some business models it is 100% pottery painting; for others, it is a side-line.

The size of business e.g. some studios will have 12 seats whereas others will have 30 seats.
Here's what we think you will need. Links to our shop are shown in red font. Trade/discounted pricing can only be seen when you are logged in.
Kiln
The biggest single expense for a pottery painting business is a kiln. Whilst there are second-hand options available online, some of these appliances are old/out of date with difficult to find spare parts and high running costs. A kiln is the most important part of your business. Without a running kiln you will not be able to fire the pottery and a back-log will soon build up resulting in complaints.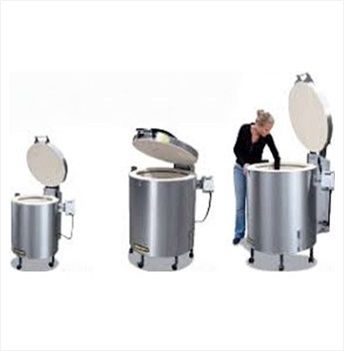 Our Top Selling Kiln
For the last few decades, our Top-selling kiln (click on the red text for a link to our shop) has been a 60 litre 13amp plug-in kiln. It is the largest kiln you can buy on a household plug. Please note that you cannot use an extension lead with this appliance - extension leads weaken the power supply and the kiln will need maximum power to run.
The advantage of buying this kiln is that you will not need to pay an electrician to hard-wire your kiln (circa £300-600), the running costs are low, it is a great starter kiln size and can always be used as a second kiln (or sold) should you realise you need a larger kiln in the future.
Designed by Potterycrafts (a well-established UK manufacturer), this model is ideal for both a domestic set-up or a professional studio. Price includes: kiln, shelves, shelf risers (props) and delivery. We also sell a similar model by Nabertherm (a German manufacturer that sells kilns worldwide).
Click on our "Buying A Kiln" guide (above) for more information about buying kilns.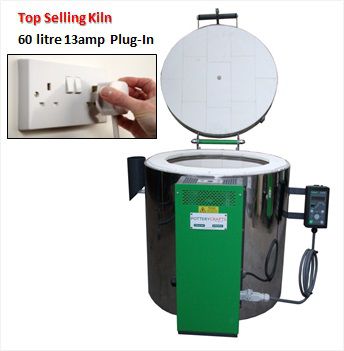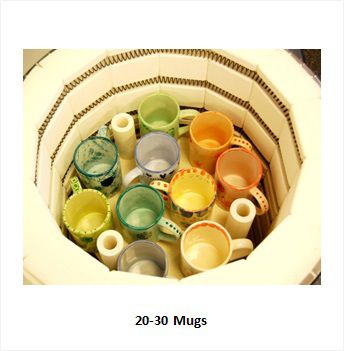 60 litre. Approximately 20-30 standard-sized mugs.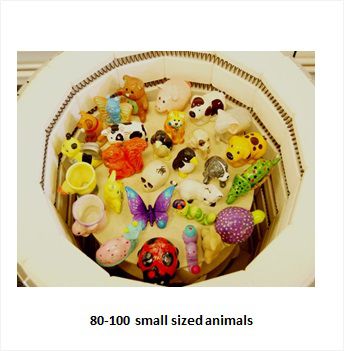 60 litre. Approximately 80-100 small-sized animals.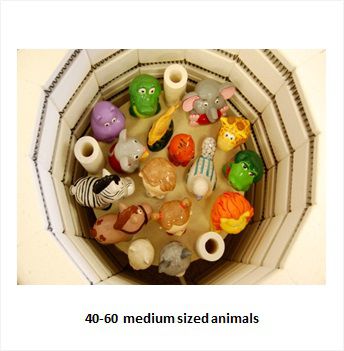 60 litre. Approximately 40-60 medium-sized animals.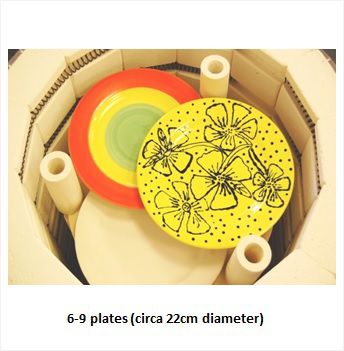 60 litre. Approximately 6-9 medium dinner plates (22cm)
The above figures are estimates and are dependent on the height and width of your shapes.

Firing A Kiln. You can only fire a kiln once a day. The programme we recommend for our bisque pottery lasts 6-6½ hours. It takes circa 18 hours for the kiln to cool. You cannot speed up the cool-down process because the pottery will most likely crack due to thermal shock. Therefore you can only do 7 firings each week. If you are worried about which size of kiln to buy, then please contact us.

Kiln Prices and Specifications. If you are interested in other size kilns then please download our Kiln Price List (excel spreadsheet icon below) or email sales@countrylovecrafts.co.uk to request a copy. The document shows lots of information including prices, kilowatts, top temperatures, electrical supply, weight and dimensions (internal chamber and externa chamber sizesl). On page 2 there is a breakdown of the furniture sets included.
Urgent Kiln: If you need a kiln urgently, we have some kilns in stock and these can be despatched on a next-day delivery (working day, not weekends). For kilns we DON'T have in stock, there is an average 2-3 week lead-time on a direct despatch agreement.
Kiln Deliveries: All deliveries are a door-to-pavement service. For kilns that need hard-wiring we would recommend you request a site survey from your electrician to ensure that the location can take the kilowatt and amps supplied. Do remember that if you order the wrong size kiln or the wrong electrical set up then it will be a very costly return (customers are responsible for the cost of returns).

Buying A Kiln From Us: It is in our interest that you you glaze and fire your pottery successfully. We try to help where we can.
We will provide written instructions on how to programme the kiln for our products so that you will not have to read (or try to understand) the kiln manual.

We will provide ongoing phone, email and video support.

If needed, we will provide video training for glazing and firing.

We have over 30 support articles to help with troubleshooting imperfect firing results.
Costs of running a kiln: For our products, the firing will be typically 6-6½ hours up to a top temperature of 1020°c. We are using a "sample" rate of 12p per kw per hour and the kiln was a 3kw, 230v appliance:
A=Kilowatt rating of kiln (taken from data plate).

B=Firing times in hours x 0.6 (since the kiln is only on full power towards the end of its cycle).

C=Cost per kilowatt/unit (taken from your electricity bill)

Formula: A x B x C = 3kw x 6.5 x 0.6 x 0.12 = £1.40 for a typical 6½ hour bisque firing.
If you operate from home, remember to contact your home insurance company to let them know you will be running a kiln from home.
Front Loading Kilns. We do have access to front loading kilns if this is your preference. However, please note that typically prices are circa £500 more expensive for front-loading kilns.
Glazing and Firing Accessories
You won't need everything listed on the spreadsheet in this section. However, as a minimum we would recommend the items below - click on the red text for shopping links.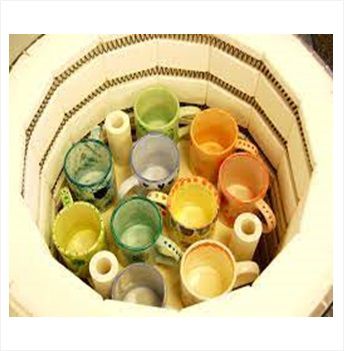 Do remember that if you get imperfect firing results then this will impact your sales going forward. Do you have glazing and kiln firing experience? If not, it is not really possible to teach yourself glazing from online tutorials because :
There are many different types of clays and glazes

Different glazes/underglazes and clays have different firing temperatures

There are assorted firing programmes recommended.
We can provide online personalised training and support if you buy a kiln from us. You may also find our support articles useful - click on button below.
Underglaze
We recommend a minimum of 16 colours (red, yellow, pink, green, orange, aqua, purple, blue, black, brown, grey, skin, white - light and dark shades are recommended for landscaping colours e.g. blues, greens and browns). Whilst underglaze colours can be mixed, the tone of colour is unpredictable after firing e.g. mixing black and white to make grey quite often results in a slightly lighter black after firing, not grey.
If you plan to put paints on tables we would recommend buying empty plastic bottles that can be filled using the larger 8oz bottles. For example, if you are likely to have four tables in your studio/area you will need 4 x 16 empty 2oz plastic bottles (64 bottles in total) and to fill those bottles, you will need 2 x 8oz bottles in the 16 colours you choose (1 x 8oz bottle will be decanted into the empty 2oz bottles leaving a spare 8oz bottle to top up with).
However, if you plan to have a "paint station", then we would recommend ordering 2 x 8oz bottles in the colours you wish to stock. Remember you will need a colour board/colour wheel to show customers what the finished fired colour looks like.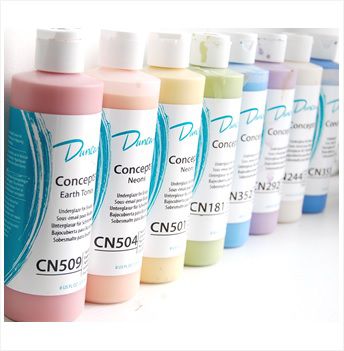 Colour Displays
Underglaze and glaze colours look matt and almost pale when un-fired.
Therefore you will need to think of a way to show your customers what the colours will look like after being fired in a kiln.
Ideas are:
Wall display e.g. hearts, wall geckos, wall frogs etc)

Bisque Plate e.g. like a "lazy susan" with underglaze bottles in the middle

Brush pot using a beaker

Bisque Pendants (useful for mobile business as less heavy)
If you have studio space, there are some really beautiful and creative ways to show/display fired colours.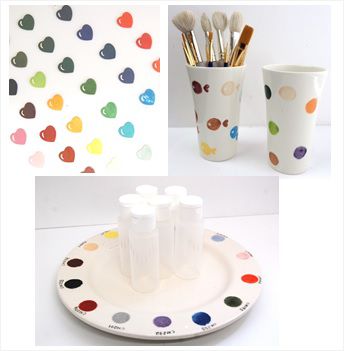 Clear Glaze
When decorating with underglaze, you will need to cover your pottery (after decorating) with a clear glaze - often described as a glossy top-coat.
Brush glazing in a business is time-consuming so we recommend dip-glazing your items. With this in mind, we recommend buying a 5 gallon drum of glaze to start with and using the smaller drums to top-up as the liquid depletes. Do remember you also need to consider the depth of liquid and the diameter of the bisque you sell (to make sure that it can be dipped in the drum). Alternatively you can buy your own plastic container and use this as a dipping drum by emptying your glaze into the container.
The diameter of the glaze drums we sell are:
1 gallon drum - 16cm diameter

3 gallon drum - 22cm diameter

5 gallon drum - 28cm diameter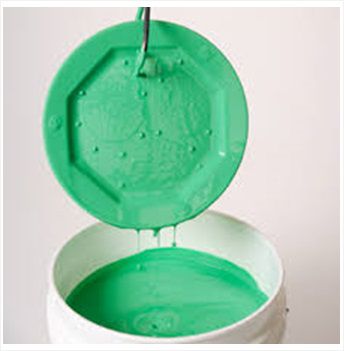 Bisque
We have hundreds of shapes e.g. plates, mugs, Christmas baubles (remember to buy firing rods if you buy these), bowls, egg cups, animals (for children) and anything hearts and butterflies are good sellers.
Mobile business: Space will be restricted and you won't need to display your samples so we recommend "buying to order" so that you don't have stock sat around not earning you money.
Studio business: You will also need a good amount of stock on the shelves to sell. For this reason your first bisque order is likely to be large. If you have a studio remember that you will need to paint samples – coloured samples will help sell your wares.
TOP TIP: Remember to look at the width of the items you are buying to make sure they will fit in the width of the kiln that you have bought.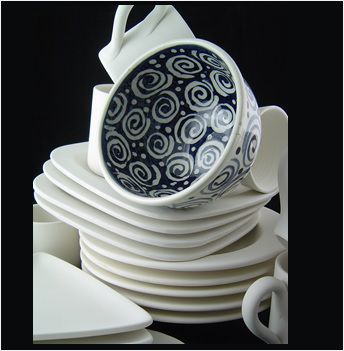 Guild Membership
We offer a range of bisque at reduced prices for Guild Members. It costs £50 per annum (ex VAT) to join the Guild.
Guild Members benefit from further discounts in two ways: (1) a range of approximately 30 popular bisque items that are called "bread and butter" items and although these are available for everyone to buy, Guild Members can buy these items at a reduced rate (2) a further 2% on bisque, glaze and underglaze (excludes some special offer items).
Membership runs from January to December each year. If you join part-way through the year you will be invoiced a pro-rata portion of the annual membership.
Guild Membership means you will receive reductions off any discountable bisque, underglaze and glaze.
Click on the button to find out more.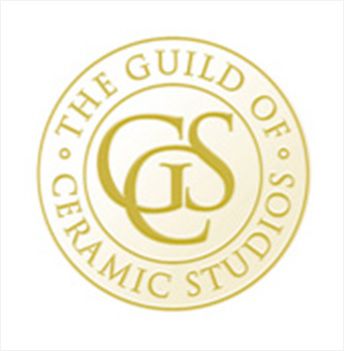 Brushes
We would recommend at least 20 brushes on each table of four or five or 3-4 brushes per painter.
For personalised pottery you will need a good-quality selection of about 12 assorted brushes including a mop brush and a fine liner.
The SVP packs of brushes are cheaper and work well for studios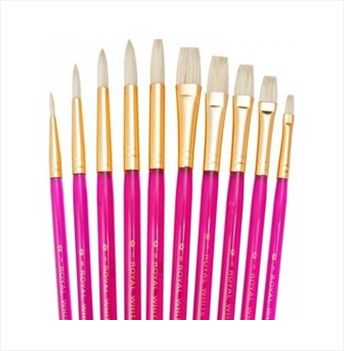 Decorating Accessories
Customers will need paint palettes, water pots, sponges and other decorating tools.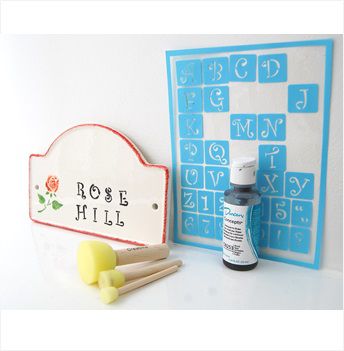 Display Accessories
You may want to consider plate stands to display your bisqueware or finished samples in your studio or craft stall.
The plate hangers are a self-adhesive disc which can be attached to pottery so that items like plates can be hung on the wall - these are often sold to customers too.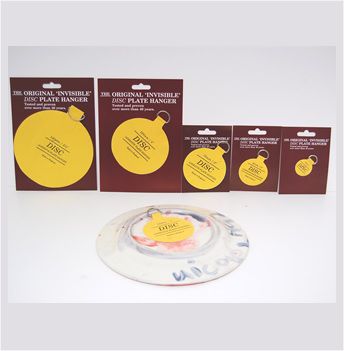 Paint With Acrylics
LOWER COST START-UP OPTION – "No kiln required"
Painting pottery using acrylics (no kiln required) means the start-up costs are less – this is because underglazes and glaze is more expensive than acrylics. This decorating option has always been popular.
Advantages: Ideal for tourist trade or when there is a firing backlog during busy times; paints are cheaper: easy "make and take" option (no behind the scenes work when your customers leave); complimentary products like glitters, dimensional paints and snow effects can enhance the finish. As the business grows and you make profit, you can then consider adding a kiln.
Disadvantages: the paints are not food-safe (so are only suitable for decorative items not tableware) and once dry it is difficult to remove from brushes and clothing.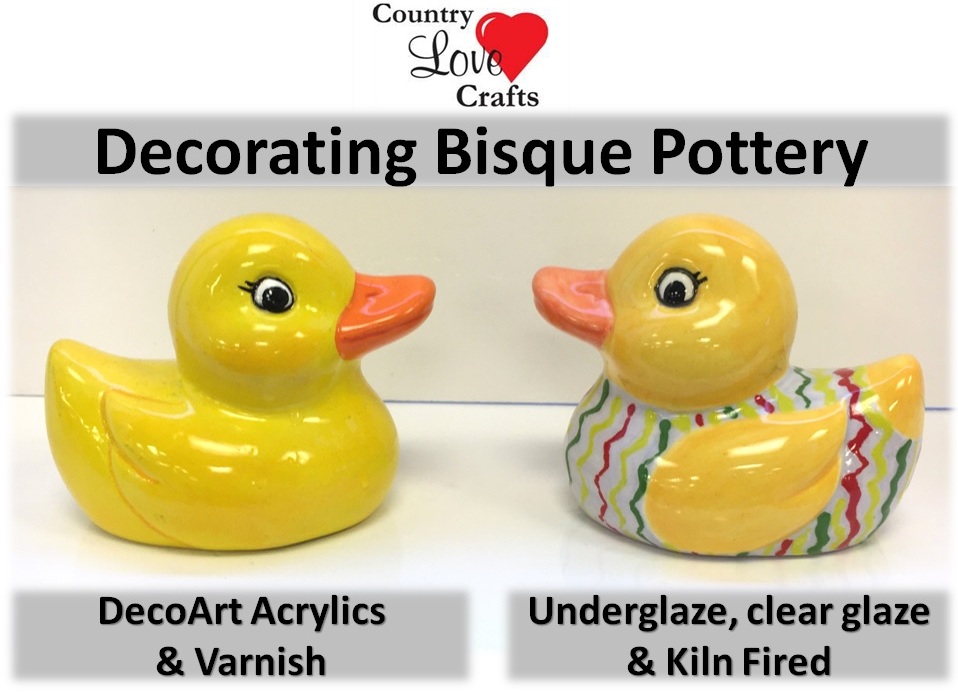 Keep In Touch
Whatever your decision going forward, please feel free to connect with us online:
Inspiration
Whatever your decision going forward, please feel free to connect with us online: