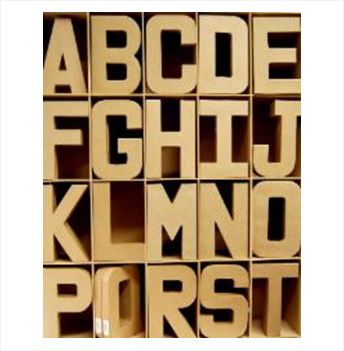 Sturdy, Eco friendly Shapes
There is a huge assortment of designs or shapes in various sizes. These items are light and easily transported and are available for craft businesses.
Sturdy, eco friendly, low-cost, paper craft shapes. These biodegradable papier mache shapes are mostly made from recycled waste products (e.g. old newspapers, cardboard etc). Each piece has been hand-made using 100% recycled materials and organic glue.

Country Love Crafts' Own Brand Papier Mache Shapes
100's of low-cost, ready to paint designs. Available to buy on wholesale terms including: 3D letters (and letter boxes), numbers, symbols, an assortment of boxes, flat shapes, scrapbooks, money boxes and frames. We know you'll love the trade prices!
Designs supplied in a buff or manila colour ready to paint. Decorate with acrylics, inks, poster paints, stamps, polymer clay, foam clay, decoupage (or Decopatch), papers, napkins, glitters, embellishments, beads, fabric and much more.
100's Shapes. 3D letters, 3D symbols, 3D numbers, display accessories, boxes, cases, chests, flat shapes, plaques, picture frames, photograph frames, hearts (chunky, puffy), miscellaneous, money banks and more.